Get beautiful eco bamboo awards and eco-savvy plaques for those interested in repurposed and recycled awards. Bamboo is one of the most durable and easily sustained woods, so there's no guesswork on whether your award giving is good for the environment. Eco award plaques come in several types of bamboo woods and coconut shell bases. Both of these wood types are as durable and sustainable as it gets when it comes to sustainable award giving.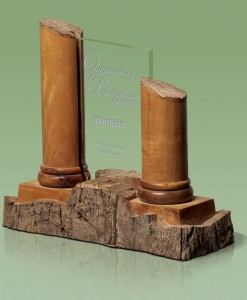 As designers for eco-friendly awards, you get the best of both worlds. Our environmentally friendly plaques come in many different shapes and sizes, making sure you give a plaque that is ethically stylish.
What you see here is a very small amount of what I have to offer. I have  many local craftsman that are reclaimed wood artists.  I value Eco Awards and like to mix the mediums such as Eco glass and wood. If you have the time and want to make it a one of a kind award or you want your Eco award to reflect what your company logo give me a call and we can create it.
(949) 631- 5596 pst or awardpro@roadrunner.com